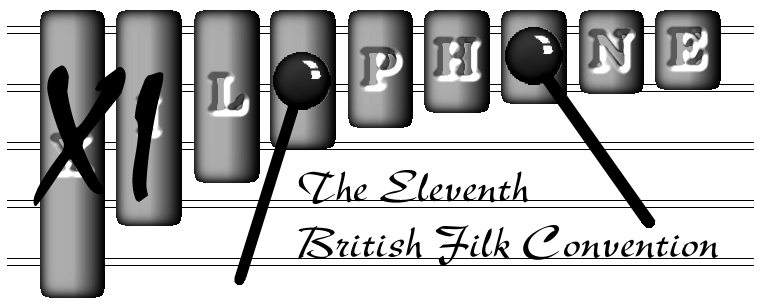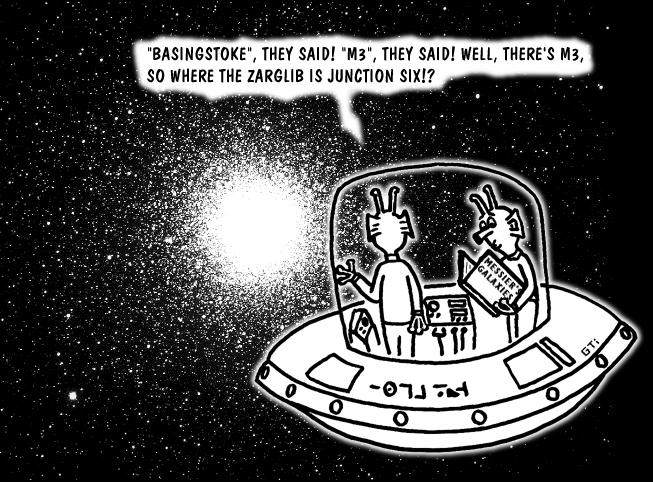 5th - 7th February 1998 in Basingstoke, Hants
"in space, no one can hear you tune a twelve-string"
Progress Report 1
brought to you by... the postman
Editor's Corner
Real Life can certainly get in the way of Goluptious Hobbies

(© V.R. Housden), either turning them into Frantic Fits of Furious Fretting or setting the transporter coordinates to the centre of a handy red giant and pulling all the sliders at once. Thankfully, the task of producing PR1 was of the former type, with your Pubs man nearly reduced to a crawl (Pub Crawl, anyone?).

'S not for lack of trying, mind you. Some of this precious document was typed in at 37,000 feet over the Atlantic, with the fervent hope that any Microsoft or Boeing products I might happen to be using at the time would, shall we say, stay up until I'd finished with them. Naturally, I had complete faith in my Hewlett-Packard laptop <grin>. And then I was hoping to do some more on the Eurostar, looking out of the window at the fish and seaweed. But I fell asleep instead.

We promise that PR2 will be On Time®. Honest!
The Details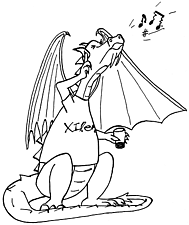 For your information, XIlophone will take place at the

Hilton National Hotel in Basingstoke. Just so you know. That's the Hilton National Hotel in Basingstoke, in case you missed it. It's in Basingstoke and it's called the Hilton National Hotel, Basingstoke. (Hi MikeR!) 8-)

As for contacting us (and booking your place and so on):

Web:

http://www.altrion.org/xilophone

Email:

xilophone@starsky.demon.co.uk

Snail-mail: XIlophone, c/o 34 Hill Top Drive, Oakham, Leicestershire LE15 6NF

Membership: Until 31/12/98: Full: £25; Unwaged: £16; 0-5yrs & soft toys: £1

From 01/01/99: Full: £30; Unwaged: £20; 0-5yrs & soft toys: £1

Supporting membership: same as unwaged, but can be upgraded to full

membership for the difference between supporting and full at the time of

the upgrade.

The Chairman's a Dress
Something about that title doesn't look quite right: um... what the heck, it's far too early and I'm watching the boss's laptop reinstall NT for the third time. Ho hum. Microsoft.
Well, we're here. Our apologies for the delay in getting PR1 out – nailing down a hotel that was prepared to let us have decent rates proved more interesting than we at first anticipated: suffice it to say our first choice offered wonderful weekend package deals but wouldn't extend them to us. Their loss. However, we're now happily ensconced in what you will, I'm sure, discover is a Very Nice Hotel in Basingstoke. Check out GK's piece later on to learn more, and fill in your hotel booking form.
As for guests, we're delighted to say we have two very different, and in both cases unique. talents. Our overseas guest is someone Anne and I discovered at a WorldCon in Orlando, and then again at MiniCon, with much encouragement from Bill and Brenda Sutton ("You have got to see Dave Clement!"). His ability to grab an audience and keep them entertained is second to none, his repertoire of songs ranges from the serious to the stunningly silly, and his guitar playing leaves me drooling. From the UK, we have one of our oldest friends, someone whose activity in British filk and fandom goes back further than any of the committee, and whose talent with a guitar is legendary (no laughing at the back). Lawrence Dean has the dubious honour of being the only British filker I've parodied, and the much more genuine one of being a writer of damn fine songs, filk and folk alike, that just won't get out of your head. For more on our guests, read on – Bill Sutton and Valerie Housden will introduce them to you.
What about programming, you ask? Well, to a degree, this is where you come in: find the form later on in these pages, and tell us what you'd like to see, and, heck, even volunteer to run something.
If you're not a member yet, this is the only PR you'll receive: PR2, with final hotel directions, updates and the like, should be out in December.
So, read on: find out more about the guests, the committee, the hotel, the dragon... Enjoy, and we'll see you in February.
Mike

Dave Clement – Overseas Guest of Honour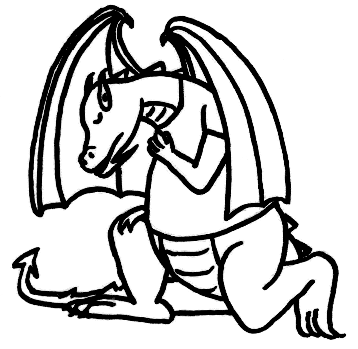 "Decadent" Dave Clement first appeared in Charles deLint's novel Fundy Song as one of artist Jilly Coppercorn's many musically talented and faintly disreputable friends. Due to popular demand, deLint expanded the character into a lead protagonist role in the World Fantasy Award-winning novel Drink Up the River. Soon after, Dave started appearing at Worldcons and filk conventions. Some say that the character (and we use the word in all its potentially interesting connotations) of Decadent Dave was inspired by an as-yet unpublished Stan Rogers ballad which was censored by the Canadian Broadcasting Corporation and never recorded.

Contrary to rumours started by jealous polka band members, Dave has no criminal record. His only brush with the law was an arrest and trial for voice theft, when he was accused of stealing the vocal cords of Zloty MacHamish Vinyls, the famous singer of Saskatchewan Sea-Chanteys. The case was dismissed when Vinyls could not produce a single witness to identify Dave's mellifluous singing as Vinyls' own. An anonymous letter to the editor of the Saskatoon Daily Combine implied that the witnesses had all been under the influence of a potent beverage but was laughed off. Soon after the incident, Dave moved to Manitoba.

Tales persist of Dave's involvement in a number of bands in the Winnipeg area. Members of one band (Dandelion Wine) seem to have mysteriously disappeared over the last few years. A new band (Curragh) is making the rounds and is threatening to record an album in the next year or so. These rumours would be easy to discount if it weren't for the presence of one Tom Jeffers. Tom follows Dave around and claims to be a member of both the above bands. Tom also claims to have written a number of songs (including the popular "Circles in the Grain"). Tom also sometimes claims to be Jean Chretien, so there you have it in a nutshell.

Most experts agree that Dave is currently lying low to avoid prosecution on a number of charges involving managing technical personnel. He himself claims to have been an IBM mainframe geek from the earliest days, but that hardly seems a valid excuse in today's more enlightened world. A short stint running filking for Conadian (the 1994 Worldcon) led to a complete collapse of the Canadian economy and the devaluation of the Loonie.

Dave's friends claim him to be an accomplished musician, a fact hard to argue with until one discovers that he recently purchased a bodhran. He has a black belt in Taekwando which he may or may not use on the bodhran.

On meeting Dave for the first time, one might think that he is visually impaired. This is only true in the strictest legal sense of the word, as Dave's eyes are in his fingers. This becomes obvious when one watches him play guitar, but should be taken as a warning should Dave ask a lovely young lady to let him take a closer look at her ...

Dave's wife Elizabeth is on the short list for canonization for putting up with Dave for all these years. The only thing standing in the way of her beatification is the pesky requirement that she be dead in order to qualify. As she may be the only sane option standing between Dave and world domination, one hopes this honor is delayed for some time to come. Dave has two children and two grandchildren, and luckily they all seem to manifest a genetic influence from the other side of the family.

We must say (remember the Taekwando and the potent beverages) that there are few people in the world of music that we enjoy playing with as much as Dave. We also enjoy making music with him. We envy you the opportunity to meet him for the first time - like we did in New Orleans, where he ... well, that's another story.

Some of the above biographical facts may actually be true. Believe at your own risk.

Bill Sutton

Lawrence

Dean – UK Guest of Honour
Fan, filker, folkie, father and friend. And librarian - Ook!
Lawrence tells me that the first filksing he ever attended was at Seacon 79, the World Science Fiction Convention held in Brighton in 1979. He stayed long enough to hear a few songs, join in where appropriate and buy a copy of Filthy Pierre's Microfilk. The first filksong he ever wrote was "The Ballad of Arthur Dent", the first ten verses of which were published in 1980 in Forty-Two, the newsletter of Hitch-Hikers Anonymous, the then fan club for The Hitchhiker's Guide to the Galaxy, and which he sang to a friend at the 1980 Unicon held at Keele University. All of which means that by the time XIlophone comes round, Lawrence will have been involved in filk, on and off, for twenty years, which he finds mindboggling but which makes me feel like a mere stripling, as I went to my first convention in 1981.
The first filksing attended by both Lawrence and myself was the all-night session at Consept, the seventh Unicon, held in the summer of 1986 at the University of Surrey in Guildford. At this point, although we had both been in fandom for several years, we didn't actually know each other yet. So he doesn't remember me being there, (I think I only sang twice), and I don't remember him being there, (he didn't sing at all). But this was apparently the first "proper" filksing he had been to since Brighton in 1979 and this time he got well and truly hooked.
I first got to know Lawrence at Follycon, the 1988 British National Science Fiction Convention held over Easter weekend at the infamous Adelphi Hotel in Liverpool. Follycon was the convention at which filk in the UK came out of the broom cupboard and took its rightful place on the main programme. During the first evening's filking Lawrence produced his guitar and began playing in a style that has since come to be known as the Dean Power Strum. At that time he had already written a number of witty parodies to known tunes (e.g. "Armchair Critics", "In My Cupboard") and songs to original tunes (e.g. "Norman Conquest"), not all of which had horrible puns in their titles. And during the course of the weekend he became One Of Those Responsible For "The Smilk Song" but avoided the dire retribution visited upon most of the Smilks - he somehow managed not to get roped into being on the committee for Contabile, the first British filkcon.
The WiGGLe (the London filkers' monthly get together) started shortly after Follycon, and although he was still living in Lancashire at the time, Lawrence attended many of its early meetings, and he became a confirmed regular when he relocated to Kent a few months later, having got a job as a librarian in Canterbury. This move proved to be pivotal in many ways: one of his new flatmates was taking guitar lessons and passed on some very useful tips; Lawrence started going to the local folk club and began writing folk songs as well as filk; he began going to the annual folk week in Broadstairs, where he met a nice, young woman called Nicky, whom he immediately proceeded to corrupt.
Although many other British filkers made tapes in the early 1990s, Lawrence resisted the siren call, and instead in 1992 he produced a stunningly beautifully presented book, Labyrinth of Shadows, of his songs with original tunes. As music notation processors for the computer were not so readily available at the time, he did scores for all his songs, carefully and painstakingly, by hand. He explained to me once that he had produced the songbook, rather than a tape, to encourage other filkers to do their own arrangements of his songs without being inhibited by a pre-existing "definitive" interpretation. However having set such a high standard, it is perhaps understandable that few other filkers have followed his example and produced a book of their songs.
A little known fact about Lawrence is that he was instrumental in setting up the Flying Filk Fund, the forerunner of the present Filk Fund. As I recall, a number of people had wistfully suggested that it would be ever so nice to have a US guest at Contabile. Instead of just wishing, Lawrence, in true filk fashion, wrote a song called "Flying Fish", in which he suggested to Gytha North that she set up a fund to bring over a certain North American filker and said he would send a donation of £5 to help get it started. The song was sent to several key people, donations were collected and the rest is history.
Lawrence is notorious for frequently breaking guitar strings, particularly on other people's guitars, as a result of strumming rather too enthusiastically. This reputation is not totally fair, since, as far as I can recall, he has only once broken a string on a borrowed guitar in public. Unfortunately, it was the high G string on my twelve string guitar that he broke, while performing the power strum for "Dread Pirate Roberts" during the main concert at Con2bile. This incident was immediately immortalised in song by Brian Biddle, but somewhere along the line the guitar, whose string had been broken, got metamorphosed into Mike Whitaker's Rhiannon...
But a reputation, once gained, is hard to lose, and so it was inevitable that Certain People gave Lawrence and Nicky some His'n'Hers G-strings as a wedding present.
Lawrence and Nicky have a young daughter, Caitlin, who was born on 7 February 1997, which means there should be chocolate birthday cake at British filkcons for the foreseeable future. All three are regular attendees at SWiGGLes, filkcons, Broadstairs folk week, and the folk clubs in Orpington and in Faversham, where they live, and Caitlin joins in the choruses enthusiastically if still somewhat incoherently. Lawrence has even persuaded Nicky to sing in public occasionally.
With his mixed repertoire of filk and folk songs, Lawrence complements nicely XIlophone's Canadian guest Dave Clements, whose singing includes the work of various North American folksinger-songwriters as well as filk. Yet because Lawrence's folk songs, and particularly the structure of his melodies, are rooted firmly in the English tradition, the differences between the two folksong styles will be neatly compared and contrasted.
Lawrence has a fine light baritone voice and over the years has learnt to do far more on the guitar than just strum. So why not come along to XIlophone and listen to this Grand Old Man of British Filk (and watch him lynch me for calling him that!).
Oh, and perhaps you might persuade him to make a tape. We've all tried and failed. So far...
Valerie R. Housden
Martin
GK, hotel liaison and tech
Your name?

Martin GK

Your occupation?

Computer Consultant

And your chosen specialist subject?

My life, as it applies to filkdom.

Mr GK, you have four paragraphs on "Your life as it applies to filkdom" starting now. Try not to be too boring...

If I'd been my sister, I'd have met the Whitaker family a lot earlier. My sis had often mentioned this teacher "Mrs. Whikiter". Ten years later, I actually tracked down who her son was... why is it that no-one can ever spell your name, Myke?

You can probably... no, scratch that. You can definitely blame Mike for getting me involved in all this ("all this" being a wide definition that includes bass guitar playing, writing my own songs, performing my own songs, reading SF to any degree and any mention of fandom or filk). We met while working on a musical in Cambridge, where Mike was playing and I was teching (so what's new?). After chatting on and off for about six months, often about equipment we'd used before in our schools, we discovered we were talking about the same school. Someone had merely burnt down the tech control booth between Mike using it and me - Mike strenuously denies all knowledge of this...

My first co-write on a song was "Edge of the Night", and my first performance in filk (and my first convention) was Mabinogicon, in North Wales. Where I met a lot of other musical-type people. Specifically Smitty, Valerie, Minstrel, and Robert. Which got me involved in Razing Arizona, which meant that by the time I reached my first filk convention, Fourplay, I was already on stage, living dangerously, parodying people. There's such a thing as starting as you mean to go on, but really...

Other intere...bleep, bleep, bleep, I've started so I'll finish...plays bass guitar, drums, sax and clarinet. Sings a bit. Worship leader and bass guitarist at Oakham Baptist Church. Married Andy three years ago. Plays bass guitar in Patchwork with Neil, Andy and Minstrel.

Dan Bennett, pubs

(-licity and -lications, that is)
[Ed's note: Before I realised I was supposed to write my own bio for this slot, I asked Mr Bristow to do one. And I'm the editor, so it stays in, OK?]

Dan Bennett first came to my attention at Surrey University:

Overheard 3rd party: "Who's that prat in the silly jacket who keeps coming in and playing our bloody piano!?"

Overheard 4th party: "That's Dan Bennett."

Overheard 3rd party: "Can't we ban him or something?"

Having established that Dan shared my liking for the works of Mike Oldfield (but was way ahead of me on buying the albums) I soon found out that Dan also likes to make music using bits of home-built or cheaply purchased electronics (but his had proper tunes, and people liked them). And he also wrote silly stories and dished them out to friends and colleagues (but his were much funnier and surrealiererer than mine). And when we finally escaped from Uni, he also went into a computing-based career. (But he ended up working for the prestigious, profit-sharing and jolly-nice-to-work-for Hewlett-Packard, while I got stuck at the Ministry of Agriculture). Oh, and he likes Yes and Jon & Vangelis, too! (Only he can do the voice properly. Actually, he can do almost any voice properly!)

If I'd had to grow up with him at school, I would surely have detested him. However, being a much maturer and more level-headed person by the time we met, I hit on the more subtle and devious approach of co-opting him. Thus, when I wanted to do a set of songs at Obliter-8, it was to Dan that I turned to do all the bits involving proper music, and practising on an instrument, and things. (And of course, it turned out he does filking much better than I do, too. Done a tape and everything. Rotter. It's called "Lavender Wine". Knowing him, he'll probably turn this mere passing reference into a hotlink to his more than competently produced Web Page [Ed's note: 'Sright! just click here… Oh, sorry, the budget doesn't stretch to on-line paper…], which has been in existence almost as long as I've been talking and dreaming about doing one. Linked, that is, from his more recent and steamingly brilliant XIlophone page, wot you're reading, unless this is the PR [Ed's note: which it is. So there.].)

And we're still friends. Honest.

Now, forgive me if I'm missing something here, but surely this is wrong. Surely, surely in my darkest heart of hearts there must be some self-respecting glimmer of hatred for this over-shadowing genius. [Grabs telescope from shelf, opens up inner core of being, applies wrong end of telescope to eye and does yet another quick scan round] Nope, still can't find it. Blast. [Slams telescope back down on shelf.]

Please send your donations, and any recommendations for competent and inexpensive psychiatrists, to:
Paul Bristow,
c/o 91 Whipps Cross Road,
Leytonstone, London E11 1NJ
Please give generously. Or better still, money. I thank you.

Paul Bristow =:o}
Andy GK, membership and treasurer
Dan keeps pestering me for a Bio. Honestly it's a brand of innocuous yoghurt found at Sainsbury's and I can't understand why he can't buy his own!!! Oh not that kind of bio
.
I had never heard of Filk until 1994 when Martin mentioned a music convention he was going to and invited me along. So VIbraphone was my first con. This is where the trouble began in more ways than one.
Firstly I trogged all the way from Cambridge to Brighton, to find I did not exist as far as the hotel were concerned. However I was booked into my room as "Andy Gordon-Kerr", amusing but slightly pre-emptive since Martin and I had only been going out for five weeks (Nice one Minstrel - it's all your fault!!!). Secondly I enjoyed myself, had a fun con and have kept coming back every year since then.
I am a techie so you will often find me near the tech desk. Incidentally it always amuses me when people prevent me from lifting our own kit. How do they think the stuff gets loaded into the car in the first place. Anyone got any good spells? Not that we mind help...
I am also a musician, playing flute, piano/keys and vocal. The set I have most enjoyed playing in was the Patchwork set at Obliter-8 when Minstrel was GoH in 1996.
How did I become a member of this committee? By asking the fatal question, "What does being membership and treasurer involve?".
Mike Whitaker, chairman and GoH liaison
Actually, Mike didn't set out to be chairman. He merely waylaid the original XIlophone committee and said Why Not Have These People As Guests, and they said "yes, Mike". When Real Life got in their way (through no fault of their own), he caught the convention off a bottom edge (easier when you actually play cricket, which he does) and ran with it (never knew William Webb Ellis played cricket, did you!).
---
It's not as if he's inexperienced at this - he did volunteer get mugged in a well documented incident at FollyCon to run the UK's first filkcon, and was on the committee for TranSept. His filk accomplishments include two solo tapes/CD's, one (and one in the works) with Phoenix, being British filkdom's floating accompanist and playing in the lamentably occasional band Separated At Birth with his wife Anne and Bill and Brenda Sutton.

The Hotel At The End Of The Universe

– well, Basingstoke, actually. S'much the same if you ask me.
Mr & Mrs GK went a-scouting… and this is their report to XHQ:

Our hotel is the Hilton National Basingstoke. It is a modern hotel on the outskirts of the town, about 15 minutes walk or a regular bus service from the centre. It is handy for the M3 for access by car, and trains run from Waterloo to Basingstoke regularly (every 15 minutes on a Friday evening).

There is only one problem getting to the hotel by car. It's called Newbury. Anyone who has tried to get through Newbury on the A34 on a Friday evening will understand why Swampy, the bane of the Newbury bypass, is not my friend! It took us about 40 minutes to get through - anyone driving down please note!

The hotel, when we got there, had additional signs saying 'Musical Extravaganza'. Funny, we thought, they're about 7 months too early. It turned out to be a keyboard and piano event arranged by the local music shop, and they had taken over the hotel function space. The hotel seemed remarkably unphased by this, and were obviously being very helpful to the event, which bodes well for us. The event also gave us a rather good excuse to wander round and check out the rooms for acoustics (generally good). Unfortunately, they took all the keyboards away again at the end of the day, rather than leaving them for us in a few months time. Spoilsports...

The bedrooms are modern and well-equipped, with all the usual features you would expect from a good business hotel. We have the main function room, the Winchester Suite, which can seat up to 150 and also includes our own bar. We already have a promise from the hotel that not only do we have a discount rate on soft drinks from that bar, but that there will be also a keg of real ale and a keg of cider on draught from there. Now all I have to do is convince them that that might not be enough...

The restaurant has a nice hot and cold buffet for evening meals, including a carvery for those who like that sort of thing. We have managed to get a flat meal rate for two courses and a drink, although there is an a la carte menu for those who want to be more adventurous. Breakfast gave a good choice, either hot or cold, and techies may enjoy the conveyor belt toaster!

For keep-fit filkers, the hotel does well. There is a swimming pool (not massive, but it gets you wet) with sauna and steam room, and a small gym. There is also a training course in the grounds of the hotel, for those who are REALLY keen! (be fair, we walked round and looked at each station - does that count?!)

Parents with young children seem to be proliferating at the moment in filkdom, so we are trying our best to cater for these. The restaurant has a kids menu, and also a kids area (with toys etc for the very smalls). The pool is quite warm, and the hotel also puts on a sort of mini-bouncy-castle thing in one of its function rooms (not one we are using) for kids on the Saturday. This is unsupervised, and for legal reasons the con committee cannot commit to any supervision, but it doesn't stop enterprising types arranging it themselves.

Andy and I stayed there for the weekend, and enjoyed ourselves. I would unhesitatingly go back there for a business hotel in Basingstoke now I have discovered it, and we will probably go back for a weekend before the con anyway - there seem to be some good cycle routes near there! I hope that it will be a good venue for XIlophone. We are working with a helpful hotel staff, and will try and fit everyone's needs as much as we can.

XIlophone membership list as of 30th September 1998: