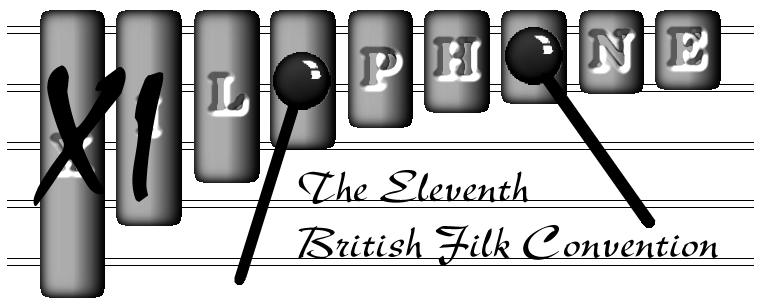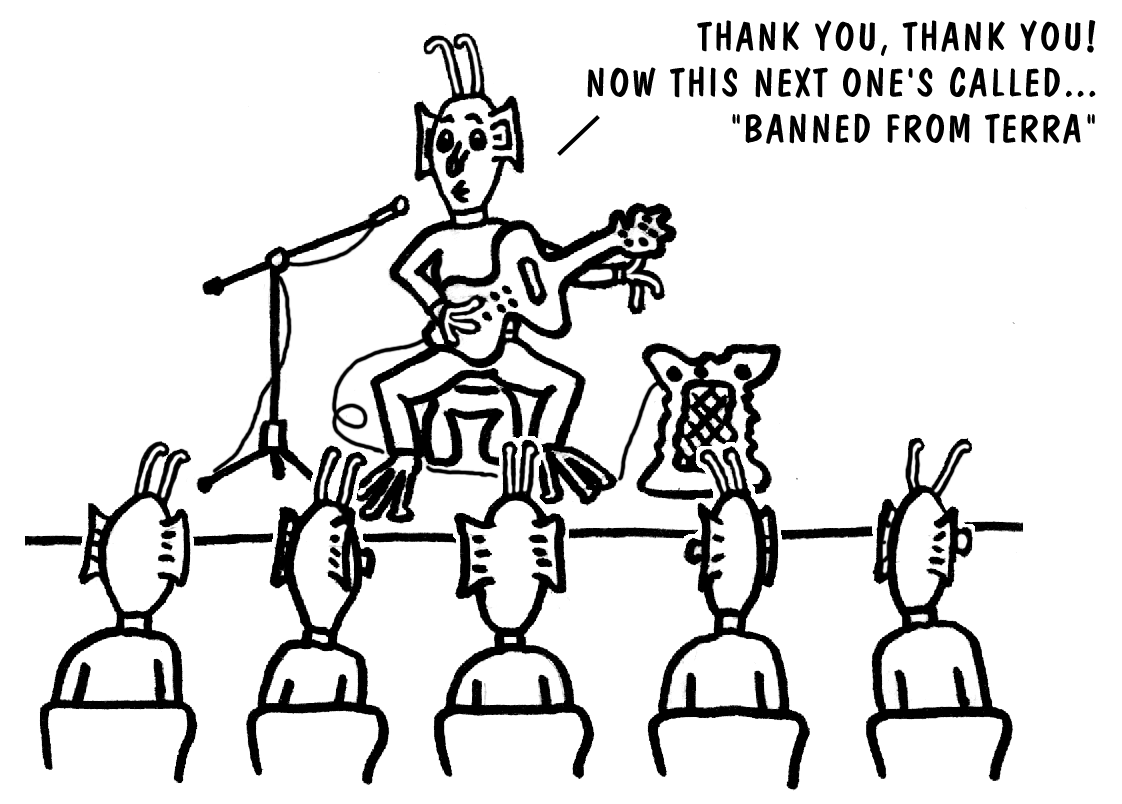 5th – 7th February 1999 in Basingstoke, Hants
in space, no one cares about your bloomin' twelve-string
Progress Report 2
brought to you by… the time you read this
---
Those Details Again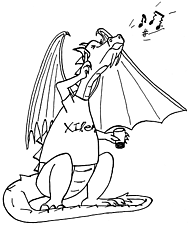 XIlophone will take place at the Hilton National Hotel in Basingstoke. (You realize that this statement means that this is the same hotel as mentioned in PR1, which must be a Good Thing.) You're the happy recipient of this Progress Report by virtue of being already signed up to attend the con, but just in case you need the contact details again, here they are:

Web:

http://www.altrion.org/xilophone

Email:

xilophone@starsky.demon.co.uk

Snail-mail: XIlophone, c/o 34 Hill Top Drive, Oakham, Leicestershire LE15 6NF

Membership: Now that 01/01/99 has come and gone, prices have gone up again (strictly in line with the rate of filtration of course), so the figures stand as follows:
Grimly, with hand on mithril hilt, surveying the black mountains ahead;
Idly(?), at the corner of two streets in The Shades (or maybe "in shades"?);
In a red shirt (and therefore only briefly);
Facing down-wind so as not to get wet knees.
Oh sorry! Not those figures! <cough>
Here we are:
Full membership
: £30
Unwaged
: £20
0-5yrs & soft toys
: £1
Supporting membership
: same as unwaged, but can be upgraded to full membership for the difference between supporting and full at the time of
the upgrade.
The current list of members is on the back page. There's still room for more!
---
Editor's Corner
Dear life-forms,
Rather than waffle about how stressed we aren't, and how miserable it wasn't to put PR2 together and so on, I thought I'd do one of those editorial spots. You know, chewing the cud about a topic that Might Interest The Reader. So here goes.
Whenever I think of the word XIlophone, I'm reminded of a comment that Zander made a while ago on the filk_uk email list. He pointed out that we've got a leetle challenge coming up in about a year's time, probably scheduled to surface at the bidding session in Milton Keynes (assuming the likely bid wins at XIlophone). The problem is that after twelve, it becomes darn difficult to base a con name on a number. I suppose we could have Triskaidekafilkia, except that the committee for that would get fed up with typing it. But what comes next? Zander's hint was that we have to think of a generic name for British Filk conventions, a bit like North American regulars such as OVFF and FilkOntario. Can we imagine FilkUK 14, or BlightyFilk 17, for example?
Get thinking! It's your duty!
And now we return you to our normal service.
Dan Bennett
---
Dramatis Personae
Here's a reminder of the who's who of XIlophone:
Guests of honour:
Dave Clement – From Overseas
Lawrence Dean – From Over Here
Committee:
Mike Whitaker – Chair, GoH Liaison and short leg
Martin "GK" Gordon Kerr – Hotel Liaison and Tech-style expert
Andy Gordon Kerr – Membership-damsel and Treasure-maiden
Dan Bennett – Publications, publicity, pictures and PR puns
---
The Programme – What we can tell you so far
Well, the first thing we need to tell you, which we've already kind of told you by not telling you, if you see what we mean, but some of you might have missed it, is that we don't actually have a Programme Person in the committee. We are on sufficiently good terms with eachother (at this stage anyway) that we decided we can actually bear to sit down together and discuss programming all together. Therefore, no single person in the committee can get blamed. (But then, there are no single persons in the committee so we're safe, right guys?). In fact, three of us are professional programmers, so that's OK then!

The next thing to tell you is that we've been getting requests for programme slots from

various bods and groups of bods, and these will duly be slotted in come programming time. Please get in touch with us as soon as you can if you've been practising every night for eleven months for your storming slot but have so far forgotten to tell us about it. OK, OK… Please also let us know if you've been practicing for eleven minutes…

In short, the sooner you "book" your slot, the better your chances of getting it.

We're planning to hold workshops this year as they've been popular in the recent past, and we'd like to have feedback on how interested you'd be in attending. Here's a list of what we think is happening (but we could be wrong):
Computer-based Recording Workshop
– One of the most exciting workshops arose because one filker wanted to record a Special Song at the convention, using lots of people; and another filker (OK, our very own chairman) offered to run a Recording Workshop; and Dan put two and two together and made some Happy People. Expect a CD single in a single weekend!
Drumkit Workshop
– With Lissa 'n' Tim, as this was such a hit (geddit? hit! ahaha!) in Blankenheim.
Percussion Workshop
– If you've ever heard Harry the Bear play his bodhran, this just has to be the place to be.
Basic Guitar Workshop
– Tim did this last year. It was Very Popular with those who went. This is your chance to see what you missed.
Chords By Whitaker
– For your instruction, Mike will make sense out of all them tonics, dominants, susps, dims and 7ths, and why the heck you should need any of 'em.
What's a Diaphragm When It's At Home
? – Rhodri will show you how to sing like a nightingale. Or even a filker, if you're lucky.
And there may be other workshops on offer… if we can fit 'em all in, that is!
---
The British Filk Awards
The Obliter-12 bid committee have decided to sponsor this year's British filk awards, with an aim to making them an on-going feature, run in much the same way in following years. For reasons that will become horribly apparent they have decided to christen these awards the Sams (as in the Oscars) and they will have some suitably spiffy trophies to go with this idea...
The first Sams will be awarded at XIlophone, so in order that the Obliter-12 committee not lose the whole convention to organising the awards (after all, hopefully they'll be busy enough conning talking you into buying a membership to their con), and to open up the nomination process to those not able to attend XIlophone, we would really really prefer that songs for some of the categories be nominated before the con.
These categories are
1) Best Serious Song in the last four years (i.e. written since TranSept)
2) Best Humourous Song in the last four years
3) All Time Great (song of any age)
(In the future the time periods for song validity will probably be shorter, but we need to get it up and running first.)
Note that songs which have previously won UK filk awards are not eligible for nomination in any category. Note also that since it confused almost everybody we have decided to eliminate the humourous/rip-off distinction and just have a single category for funny songs.
Send your nominations to:
sams@oreos.demon.co.uk
or post to
Sams
c/o L Allcock
119 Whitehill Lane
Gravesend
Kent DA12 5LU
Nominees will be given a chance to see which of their songs have been nominated, and withdraw any they wish to (or which are too old) before voting at the con commences. Do not worry if you are not entirely sure when a song was written - nominate it and the author can withdraw it as necessary. Equally, since the best person to know which of their songs are eligible is the author, we are stating in advance that nominating your own songs is perfectly acceptable.
In the interests of our sanity, we would request that people confine themselves to nominating not more than three songs per category, unless they really feel they need more than this.
In addition to these three categories there will be a category of Best New Song at the Convention, for which we will take nominations throughout the con. A list will be displayed at the con of all the songs that have been nominated, and voting will take place on the Sunday.
Lissa Allcock, filk fund administrator, concom member and now award guru. (I think I'm wearing too many hats at the moment!)
---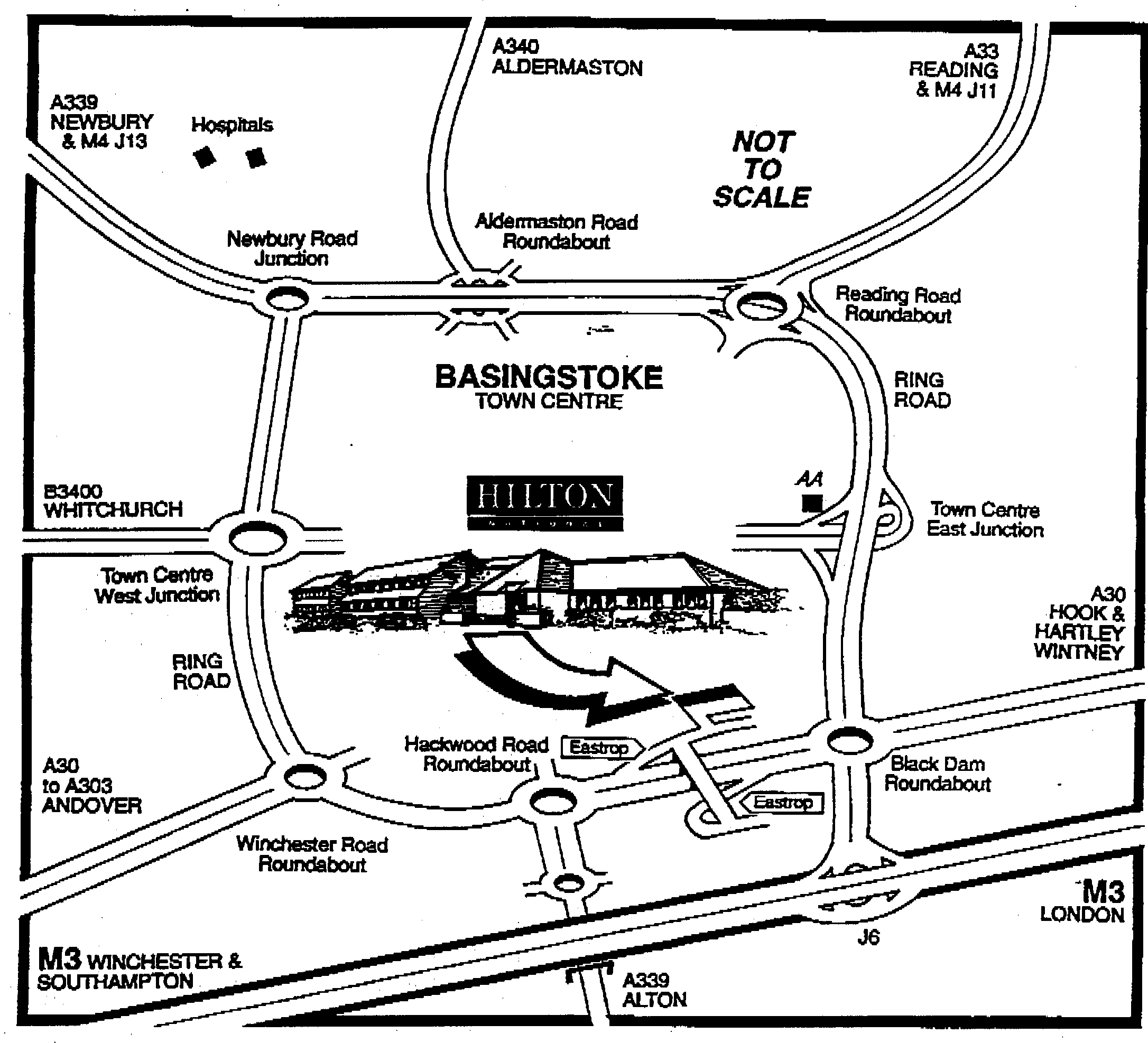 How To Get There
By Road
From the M3 (London and the South): Take Junction 6 of the M3 motorway, keeping in the lane signposted "Alton" until you reach the Black Dam Roundabout.
From Reading or the M4: Follow the A33 to Basingstoke. Once in Basingstoke follow the A339 signposted "Alton" until you reach the Black Dam Roundabout.
From Newbury: Follow the A339 signposted "Alton" and "M3" until you reach (you guessed it) the Black Dam Roundabout.
At the Black Dam Roundabout: Take the exit marked "Black Dam" and "Eastrop". Travel along this road for about 200 yards and take the slip-road marked "Eastrop" on the left. Follow the road around the bend, taking the first left over the bridge. At the T-junction turn right. The hotel is on the left.
By Train
Basingstoke is on the Bournemouth line that leaves London at Waterloo Station. A useful major node on the way is Woking, for those coming from the South-East who would rather avoid the metropolis. From the South-West, you could pick it up at Bournemouth or Winchester.

Another useful node is Reading, which is only twenty minutes away from Basingstoke by train. Reading would be good for folks from the Midlands and the North.

By Air

If you fly into London Heathrow, then a Good Way to get to Basingstoke would be to pick up either of the RailAir Link buses: one goes to Woking, and the other goes to Reading. Then you'd get a train from either of those stations direct to Basingstoke. The buses call at all four terminals every half an hour or so. All you have to do is to find the right place to stand and wait for it (not difficult). You can buy your ticket on the bus itself. I believe you'll even be able to buy a ticket all the way to Basingstoke, as you're effectively buying a train ticket.

If you fly into Gatwick, then you can take a train all the way to Reading, though some journeys require changing at Redhill. Then take another train from Reading to Basingstoke.

By EuroStar

EuroStar trains from the Continent end up at Waterloo Station in London, which is perfect, because you'll be able to get a train to Basingstoke right there. Don't forget to buy a ticket first, though.

How to get to the hotel from Basingstoke Station

It's two miles from the station to the hotel, so you probably don't want to walk it with your suitcase and 12-string. We're laying on a cheap shuttle service during peak arrival and departure times – see "Any Other Business" later in this PR for details.
---
Taping Police – er, I mean, Taping Policy
Few things are more terrifying than the voice of Smaug, which sears heart and flesh with firey wrath and jealous spite. One of them has to be the business-like "Don't!" of a GK affronted by an inappropriate taper doing inappropriate taping. Avoid life-scarring mental trauma by following these simple guide-lines:
Make sure you obtain the performer's explicit permission before the performance (and not a mere 25 seconds before the performance, or the response might be more explicit than you were hoping for).
Any recordings made must be for personal use only, and must not be published in any form, unless you and the performer(s) and the composer(s) of the music and the author(s) of the lyrics are in full agreement about royalty arrangements, copyright ownership(s), etc, etc, blah-blah, MCPS, blah, permissions yada…
Set yourself and your equipment up to be as unobtrusive as possible to the performer(s), the audience and the tech crew. If your tape machine runs out of tape during a performance, then don't interrupt the performer with cries of "Hang on a minute while I turn the tape over!". Remember Smaug.
If you wish to take signal feeds from the tech crew's gear, then talk to GK now!
No unattended recording. Unattended recorders will be switched off on sight.
Any reference in the above to "tape" also refers to minidisc, hard-disk, RAM, CD-RW and wax cylinder. We don't take kindly to well-dressed posteriors.
---
Weapons Policy
My notes from the last con-comm meeting say "Say it diplomatically". Hmm. Here goes… <rummages in briefs>…
On behalf of His Emanation The Chairman Of This Con and of His Committee, Mugs of the same, we do beseech those that do in their enthusiasm wish to attend our gathering bearing Weapons of Warriorishness that they may Do So only when said Weapons of Warriorishness are an integral and indispensible part of costumes that it might be their fancy to disport, and that if so borne, these said Weapons of Warriorishness must be Sponded With A Pea. Well that's what he said: "Pea-Sponded". I'm not entirely sure what it means, but I'm sure there should be Strings Attached. And mind you bring your own peas.
---
Any Other Business
Tech Rota
This is your chance to fiddle with as many knobs as you can dream about in one go! GK and Andy are looking for volunteers at all levels of expertise for running or assisting with the live tech during the con. GK wants to set up a rota, so if you're itching to waggle them sliders and wang that EQ, let him know now, or as soon as you arrive.
First-Aid team
Andy GK would like to organise a team of first-aiders. Volunteers are welcome, and should either send photocopies of relevant certificates to her at the XIlophone address (in Oakham, see earlier in this PR), or at least bring said certificates along to the convention. We are also looking for a volunteer soft-toy first aider [Dan's comment: I'd vote for Teddy, after the wondeful face-lift he did on a truly ugly teddy at our house!]
T-Shirts
Yup; we're getting T-shirts printed. If you'd like to have one to spill your beer down, then be quick to buy one at the con – we're only getting 40 made. Unless popular demand forces us to… &c.
Hotel bookings
If you haven't already informed GK of your hotel booking details, please do so immediately. OK, OK, so we still haven't got the web-based booking form up and running (me and MikeW take it in turns to be too busy to do it), so I've re-included the paper form inside the back page of this PR. If you want to keep the membership list, you'll just have to do some photocopying.
Hotel phone number
The hotel phone number is: (+44) (0)1256 460460, and the address is Old Common Road, Black Dam, Basingstoke RG21 3PR. This information might be useful if you're "Lost In Basingstoke" <shudder>.
Friday arrivals
Although you'll be welcome whatever time you arrive, we're expecting most people to turn up in the afternoon and evening of Friday 5th. Note, however, that the main filking room will only be available to us from 4pm, and so for the first hour after that it will be occupied by a busy tech crew who'll bite the knee-caps off anyone who strays in and gets in the way. Therefore, until 5pm you'll have to make do with sitting in the comfy chairs and taking tea (or something stronger). We do treat you rotten, don't we? J
Taxi shuttle to and from the rail station
We have arranged for a taxi to provide a shuttle service between the rail station and the hotel at the peak arrival and departure times, which we believe are 5pm to 7pm on the Friday, and 4pm to 6pm on the Sunday, so you may want to schedule you rail travel accordingly. The vehicle in question is called the "Kestrel" cab, and it has Kestrel advertising all over it, so it should be noticeable! The driver will have a XIlophone sign. He will be waiting immediately outside the station, shuttling as and when he gets people. It is probably ten minutes to run to the hotel, drop people off and return. Although the con committee will pay the taxi company directly, we'll be charging a small price of around £1.50 per person, payable at the con desk.
Pheonix
Pheonix (the UK's premier Filk Rock Band) have had an extremely busy year in '98, and they've decided not to do a set at XIlophone. Do not consider yourself short-changed, however, for they will be releasing their new CD – a task that simply requires a party! Take it from me, that CD is gooooood!
And finally…
We're looking forward to seeing you at the con and rushing at your chests with badge-pins extended. Oh sorry. I forgot about the weapons policy. So maybe we'll just smile and hand you your envelopes and you can rush at your own chests in the privacy of your rooms. Married couples are allowed to rush at eachothers' chests. We'd love to place hidden microphones in your rooms to hear the sounds of passionate pinning, but – alas – the taping policy precludes us from doing that. Oh well.
Make sure y'all have a great time, won't you!
---
XIlophone – Hotel Booking Form (again)

This is the hotel booking form which you should use if you're intending to do any sleeping at the con. Please fill it out and send it to GK at:

XIlophone (hotel), c/o 34 Hill Top Drive,

Oakham, Leicestershire LE15 6NF

Alternatively, email the details along to xilophone@starsky.demon.co.uk

The room rate is £35 per person per night, in double or twin rooms. If you'd prefer to be on your own, single occupancy will be £45 per person per night. No deposit is required (nice hotel!), but you will be responsible for your own hotel bill at the con.

Name and address:

•

Desired room type: single / twin / double (please circle)

•

Room wanted for friday / saturday / sunday nights.

• If you want a twin room do you have / require a sharer?

• If you have a partner or sharer for a twin or double room please give his or her name:

• If you need us to find you a sharer please tell us the following about yourself (sorry – same-sex sharers only). Are you:

• male / female • smoker / non-smoker

• a really late-night filker: yes / no

• in need of a particularly large room: yes / no
Please use the space below to indicate any special needs you may have (diet, access, storage, couldn't-possibly-share-with-so-and-so, etc).

---

XIlophone membership list as of 15th December 1998: